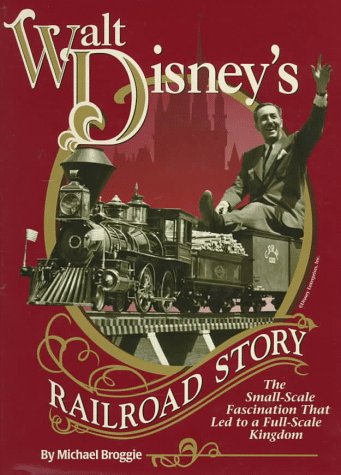 If you love the Disneyland Railroad, or you know someone who does, you *MUST* buy this book. It is *THE* definitive history of Walt's beloved trains.
Thousands of books and articles have been written about Walt Disney and his organization, yet few people realize the significance railroading played in the evolution of the Disney empire. Encouraged by Walt's family and railfans inside and outside the Disney organization, Michael Broggie has chronicled the tale of Walt Disney's personal involvement in railroading.
This book unveils the private realm of Disney railroading through hundreds of photographs, many of which have never before been made public, and interviews with Mrs. Walt Disney, Diane Disney Miller, Ward Kimball, Ollie Johnston, Bob Harpur, Bill Cottrell, Roger Broggie, Bill Evans, and many others.
Walt Disney's love affair with trains began in his hometown of Marceline, Missouri. His first job was selling tobacco, candy, and newspapers on the Missouri Pacific line. By 1950, his enthusiasm for realistic model trains had evolved into an elaborate backyard live steam railroad. Walt's Carolwood Pacific Railroad included a 46-foot-long trestle, loops, overpasses, gradients, an elevated dirt berm, and a 90-foot tunnel underneath Mrs. Disney's flower bed!
The complete history of the Disney railroads, from small scale models to steam trains for the Disney parks is covered. This is a book all Disney collectors and railroad enthusiasts will want to experience! Over 300 illustrations, many previously unpublished.